Analysis: What the data reveals about Amazon's Prime Day best-sellers
Get great content like this right in your inbox.
Subscribe
Amazon did it again — sales on Prime Day 2019 surpassed those of Black Friday and Cyber Monday combined, making this year's event the largest in company history. With 48-hours (a 12-hour extension from last year) of blowout deals, Amazon reported that over 175 million items were purchased throughout the event. With massive discounts and 'can't-miss' promotions, we [
1010data
] saw tens of thousands of unique products sold in our dataset, which is sourced from the purchase activity of millions of online U.S. shoppers.
However, not all deals were comparable, and not all brands saw the same level of success during the large summer shopping event. 1010data's best-seller list showcases the event's 'biggest winners', while highlighting the uncanny similarities to last year's top products.
[caption id="attachment_485678" align="aligncenter" width="858"]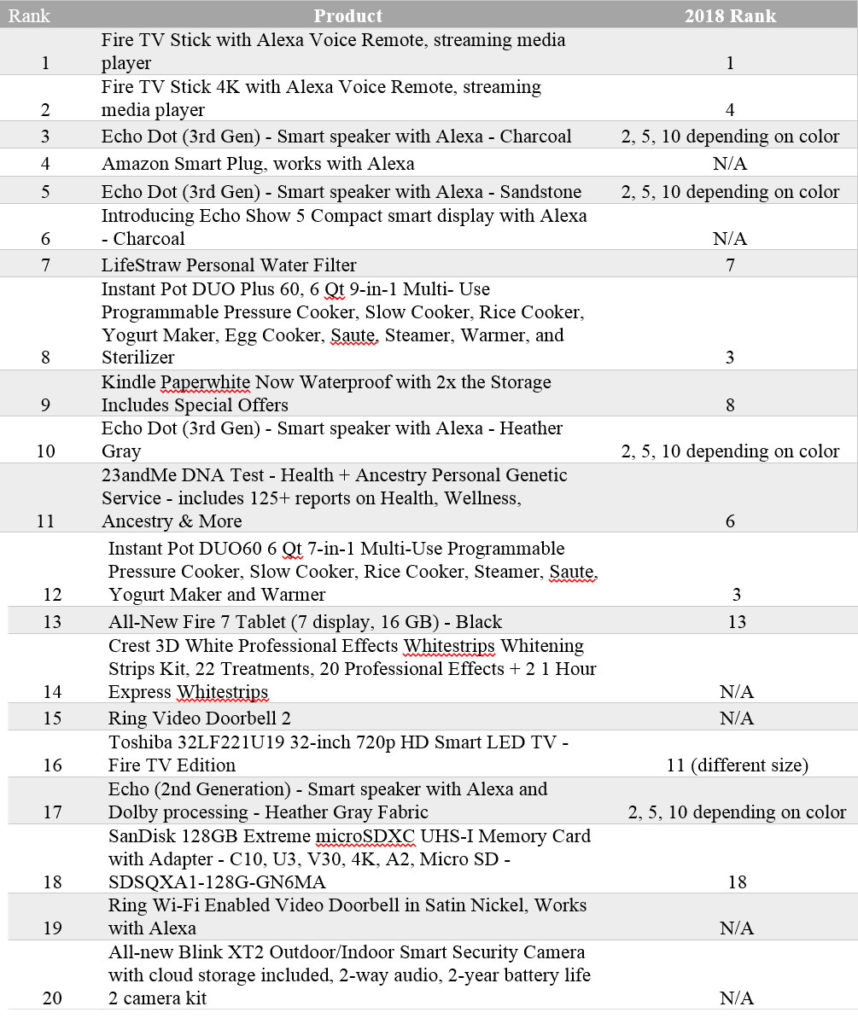 CLICK TO ENLARGE
[/caption]
Amazon Wins Its Own Game
First and foremost, this year's top 20 list closely mirrors that of 2018. The Instant Pot, LifeStraw and 23andMe DNA Test are all familiar names that were offered at a discount of 40% or more in 2018. Some of these products dropped slightly in rank as Amazon-branded items climbed the ladder. Similar to last year, Amazon used the event to bolster sales for its own devices with their branded products capturing the first six spots on the list.
Moreover, over half of the products are Amazon or Amazon-owned tech devices that are compatible with the Alexa ecosystem. Alexa is the most frequented word on the list. The Fire TV Stick with Alexa Voice Remote topped the list but was closely followed by Amazon's suite of smart speakers, including both 2nd and 3rd generation Echo Dots. We also saw the all-new Echo Show 5 Compact smart display with Alexa round out the top six. This solidifies Amazon as the winner of the tech category this year. We wrote last year that tech is king. It now appears that the tech dynasty, and more specifically, the Amazon tech dynasty, can't be overthrown.
What's New?
Also a part of the tech category, smart home products were 'winners' this year. New to the top 20 list were Ring and Blink products, both companies owned by Amazon and growing at rates of more than 100% year-over-year online. 'Ring', 'Blink' and other surveillance camera terminology were top search term for Amazon shoppers in the month leading up to the event.
Outside of the smart surveillance category, the Amazon Smart Plug took hold of the #4 spot this year. It appears as if there was only room for one smart plug on this list this year and the Kasa Smart Plug (No. 14 in 2018) was overtaken by Amazon's version. Another new product to the list, one that is unlike any other, is the Crest 3D White Professional Effects Whitestrips Whitening Strips Kit, which was discounted heavily at 60%. The kit that includes a light discounted 36% did not see the same triumph, suggesting that perhaps the size of the discount does matter.
What Can We Expect for Prime Day 2020?
It is safe to say that Amazon will again try to flex its e-commerce muscles during Prime Day 2020. In back to back years, Amazon has set out and proven that it can outdo itself. What is unclear, is what approach Amazon will use to drive even more success in 2020. Will they lengthen the event beyond 48-hours? Will they offer even more incredible deals? What is certain is that with increasing competition from retailers offering online deals during the summer, Amazon will need to get creative to retain and further grow its share of sales during the "Black Friday of July."
Jacquelyn Cooley is a market research analyst at 1010data, a provider of analytical intelligence and provider of consumer transaction data to hedge funds and other asset managers. She can be reached at

[email protected]

.