05/03/2019
Commentary: Five Retailers Actually Doing Something About Industry Disruption
Is there anyone left who's still trying to deny the disruptive forces shaking the retail industry? Google just got clearance to deliver pharmacy items by drone in Australia. Amazon operates 10 of its highly-automated Amazon Go convenience stores — and that number could soon rise into the thousands, according to recent reports. Rent the Runway, a startup that hopes to do for clothes what Netflix did for movies, in March raised another $125 million in funding, valuing the Manhattan company at $1 billion.
The question is, how should established businesses respond to new entrants? When our company, Innovation Leader, surveyed 270 executives at large companies to understand some of their top innovation challenges, we discovered something interesting: The ability to notice the signals of industry change wasn't a big challenge. Companies can see what's going on. But a related issue — "the ability to act on signals of change crucial to the future of the business" — came up as the third most-significant challenge on the list. Translation: it's hard for large organizations with thousands of employees, established ways of doing things, and lots of fixed costs to take action on what they see.
We do see some retailers taking constructive steps — beyond cutting costs, closing stores, and hoping to survive another few quarters. They're setting up "incubator stores" to test new technologies; creating tighter feedback loops with their customers; partnering with startups and other emerging vendors to explore technologies that cut costs or deliver new kinds of experiences; and leveraging their physical locations in new ways.
Here are five examples that may help you make the case for a new approach to innovation at your company:
Sam's Club Now: Testbed for new technologies
Sam's Club Dallas-based incubator store, opened last November, has been rigged with 700 cameras, 400 Bluetooth locator beacons, and new technology galore, with the goal of creating a frictionless shopping experience. A mobile app with an in-store navigation feature helps shoppers find the items they want, and shoppers can also scan their purchases on their phones, eliminating the wait in the cashier line.
Customers can also experience an augmented reality layer over certain products. Using their phones (or the store's loaner iPad), hovering over select products triggers digital animations and marketing messages.
Sam's Club Now serves as a test-bed for new technology that could create efficiency, address customer pain points, or simply sell more product. Store associates gather feedback on what's working and what's not. Successful concepts from Sam's Club Now will be rolled out to Sam's Club's roughly 600 locations nationwide.
"We might introduce a new feature every week," said Keri Voke, a product manager for innovation at Sam's Club. "I'm a big fan of the lean startup methodology. This whole concept of rapid prototyping is something that people didn't think could apply to enterprise — Sam's is a $60 billion company, and we're literally scrappily putting things together as fast as we can to see if we can get them to chain."
And Sam's Club isn't the only store following this model: A Home Depot pilot store in Atlanta tests hundreds of new ideas every quarter, and in New York and Vancouver, Lululemon has "lab stores" where apparel designers work in the back of the space, creating products that are initially only sold in these two stores. They can show a future product to customers, get input, and see what merchandise is moving.
Foot Locker: A hub for sneaker culture
At Foot Locker, maintaining an effective brick-and-mortar location isn't just about transaction volume. Kambiz Hemati, Footlocker's VP of global retail design, said the objective is to "make the store more experiential…. We want to make our stores more a part of the communities."
During a recent interview for Innovation Leader's podcast, Hemati noted that customers that visit stores may make their actual purchase online or spot an item to buy during a future visit. To keep customers coming through the doors, Foot Locker locations host speaker series, hold events, hire DJs, and even have visiting barbers. Customers are encouraged to share photos of their purchases and anecdotes about their experience on social media. Customer satisfaction is a key metric for the company, building a loyal customer base that turns to the company for all things sneaker culture.
Sound a little squishy? Foot Locker's same-store sales were up 9.7 percent in the fourth quarter last year, and the company chalked up record revenue for the year.
Guess: Tech-Enabled try-ons
Guess integrates technology into their store experience to keep the shopping experience as cutting-edge as their streetwear.
At a Hong Kong location opened last year in collaboration with Alibaba, shoppers can use their mobile device to check into the store. In the dressing room, customers can place their items on an RFID-enabled rack. When shoppers pick an item off the rack, it appears in the mirror in a variety of colors. Empowered by AI, the mirror can also show pieces that can help complete the look.
[caption id="attachment_482587" align="alignright" width="300"]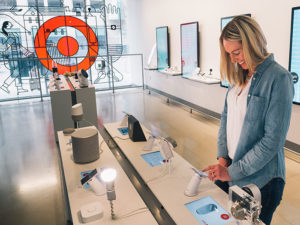 Target Open House[/caption]
Sensors throughout the store generate real-time analytics, letting staff know what to restock and which items have generated lots of interest. The result? New technology combined with traditional customer service create a memorable experience that encourages return visits, all while helping associates work more efficiently.
Target: Store as distribution hub
In order to succeed in retail, "you must be willing to disrupt yourself," said Target CEO Brian Cornell during a fireside chat at NRF's Big Show in January.
In San Francisco, the Target Open House location showcases connected and smart home products that customers can learn about, test drive, and purchase. That includes products from startup companies that may one day find broader distribution at Target — if consumers like them.
And Target has been trying to get its traditional brick-and-mortar stores to work harder. Cornell views them as "our single biggest competitive advantage." In part, that's because they are serving as distribution centers for online purchases; over the 2018 holiday season, three out of every four digital orders was fulfilled by a Target store.
Macy's + Story: Freshness Sells
The integration of curated "Story" boutiques inside 36 Macy's locations opened only last month, less than a year after the acquisition of Manhattan-based Story by the 160-year old retailer. The premise: Give consumers a reason to come in and discover new products — even when there isn't a sale happening.
"[T]he litmus test is, are we giving him or her an experience that they can't get on their couch?" Story founder Rachel Schechtman said during an NRF panel in January. And in the past, Story has charged sponsorship fees to integrate brands into the curated retail experience — like a TV network promoting a new show or a health insurer that wants to align itself with health and wellness trends. That could create a new revenue stream for Macy's, where Schecthman now serves as the Brand Experience Officer.
What's different?
What makes innovation possible at these companies — and difficult at others? It's not always about massive resources or an omnipotent CEO with a magic wand. The common thread is the ability to set up and run experiments — and not always expensive experiments — in order to help the organization respond to disruption, rather than just watching it happen.
Kaitlin Milliken is a Producer and Scott Kirsner is CE