Lowe's selects Charlotte, N.C., for global tech center
Get great content like this right in your inbox.
Subscribe
Lowe's has chosen Charlotte, N.C., as the home of its new global technology center.
The center will eventually be the home of up to 2,000 technology professionals. Lowe's said the center will lead the company's technology transformation, serving as the epicenter for the team Lowe's is hiring to help modernize its IT systems and build future retail experiences.
"We're excited to stand up our new global technology center here in North Carolina to continue to drive our company's growth," said Marvin Ellison, Lowe's president and CEO. "Locating our new facility in the heart of Charlotte, the state's largest metropolitan area, will enable Lowe's to attract top technology talent and foster collaboration with our teams in our nearby Mooresville headquarters. 
Ellison also said that the team Lowe's puts in place will create technology solutions that accelerate the retailer's commitment to becoming "a best-in-class, omnichannel retailer and strengthen our associate and customer experiences."
Dallas, Texas has also been in the running as a site for the new tech center. 
[caption id="attachment_161217" align="alignright" width="353"]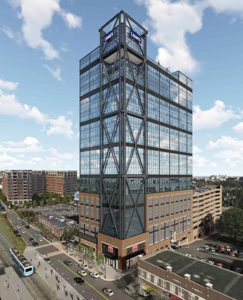 Lowe's will occupy the top 15 floors of the new Design Center Tower in Charlotte.[/caption]
A new building, the Design Center Tower, will be located at 100 W. Worthington Ave. in Charlotte's Design District. Lowe's tech center will occupy 15 upper floors in the 23-story building. 
Lowe's said that it expects to fill the first 400 new tech positions in the next year and plans to begin hiring for the roles immediately. Aside from being about 30 miles away from its Mooresville headquarters, the location also allows Lowe's to recruit from a wealth of local colleges and universities in the region. Also, Lowe's operates 21 stores and employs nearly 11,000 associates in Charlotte.
"Companies need top talent to succeed today, and North Carolina offers one of the best IT workforces in the world," said North Carolina Governor Roy Cooper.  "Our state's focus on education means our people bring the skills companies like Lowe's look for when they're working to transform their business."  
The building is a joint venture between Childress Klein and RAM Realty Advisors with plans to break ground on the Design Center Tower in August 2019.  Lowe's is expected to move in by late 2021.  
The structure is adjacent to the Lynx Blue Line light rail, a rail trail, restaurants and available parking and housing. The Design Center Tower is expected to provide attractive amenities for the area's top tech professionals. 
Lowe's said it plans to work closely with city, county and state economic development leaders, along with local tech organizations, schools and universities, to help develop and add to the pipeline of tech talent. 
This past January, Lowe's announced a massive hiring push that includes bringing 65,000 new associates on board this year, in addition to the first several hundred tech hires.