07/31/2017
Register: 5 Keys to the Digital Experience Equation
Please register below to view the webinar.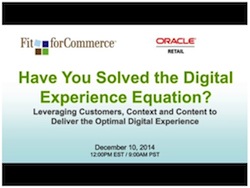 In this on-demand webinar, FitForCommerce CEO, Bernardine Wu, and Oracle Commerce Senior Director of Product Strategy, Jerry Kelley, explore why many B2C and B2B organizations struggle to define and deliver the optimal digital customer experience. The webinar focuses specifically on 5 core components that make the digital experience:


Content & commerce


Customers & context


Physical & digital channels


Brand & commerce


Scalability


Join us as we uncover strategies for how to manage, unify and control data to deliver relevant, dynamic experiences to every user at every step.  Includes case studies with Ulta, Tom's, Mediline and more.
Sponsored by Oracle
* Information collected by this form will be shared with our sponsor, Oracle. Chain Store Age and our sponsors value your privacy. To view privacy policies click here:
Chain Store Age policy   Oracle policy
[contact-form-7 id="199707" title="Register: 5 Keys to the Digital Experience Equation"]